Company Incorporation in Malaysia
Got a business idea and ready to take on the world?
The first step is to start a company.
We make starting a company a straight-forward, simple and easy affair. Just fill out the online application form, create an account and make payment for the service. Sit back and relax while we take care of the rest. As long as all your information is sufficient, we can get your company registered within 3-5 business days. For a start, why not take our free name search service?
Requirements to form a company
Do you have what it takes? Here's a quick checklist of the minimum requirements.
Transparent pricing, committed services.
RM 888     | ONE TIME PROFESSIONAL FEES 
 + RM 1,010 (SSM Registration Fees)
We believe in transparency and are committed to building long term relationship with you. Our incorporation services include the following:
Checking the proposed company name for availability

Providing clarification or advice on the completed registration form via phone or email

Preparing all registration forms

Filing all registration forms with SSM

Preparing resolutions and minutes of first board meeting


Preparing resolution to open a bank account

Preparing 3 sets of certified copies of superform (Section 14), notification of registration (Section 15), certificate of incorporation (Section 17) and notification of first company secretary (Section 58)
Certificate of incorporation


Self-inking company rubber stamp

Delivering a welcome kit to your home/office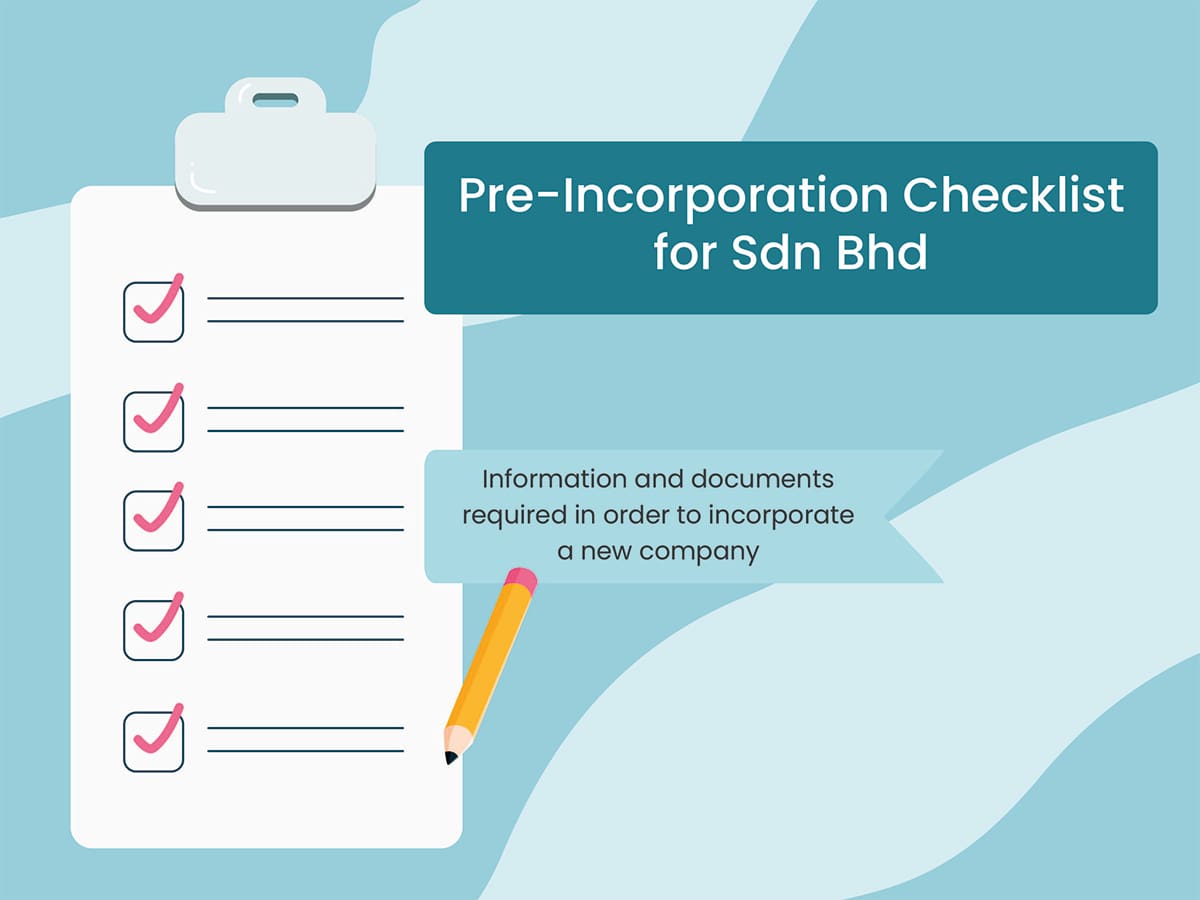 Frequently Asked Questions
What are the requirements to incorporate a company?
To incorporate a company in Malaysia, you need to have a resident director and a local residential address. Minimum paid up capital is RM 1.00 (Ringgit Malaysia One). 
What does the process look like?
The process is pretty simple and straight-forward. Once you have submitted your details and personal identification documents via our online registration form, you just need to make payment via our secure payment gateway provider. 
Once we have received the payment from you, we will prepare all the necessary documents, send them to you for electronic signature, and submit them to SSM (company registration authority). Once a company registration number is generated, your company is considered registered. 
How long does it take to incorporate a company?
Once all the documents are ready, it usually takes about 3-5 business days to incorporate a company. It depends on whether you have provided sufficient and clear details and the service hours of the SSM. 
Do I need a business address for my company?
Yes, all Malaysian companies must have a local address as the "business address". We usually provide our office address as your registered address but you will need to have your own business address. But if you don't have one to start off with, you can use our business address service as a temporary measure. 
What is a common seal and does a company need it?
Company seal is usually taken to be the signature of the company for the signing of all legal documents such as agreements, share certificates and etc. However, Section 61(1) of the Companies Act 2016 now provides that it is not compulsory to have a company seal.