All companies operating in Malaysia are required to be registered with the Companies Commission of Malaysia ("CCM") under the Companies Act 2016 (the "Companies Act").
If you have decided that incorporating a company is the best way forward for your business, then all you need to do now is to incorporate it with the CCM. Here we give you a summary of the incorporation process.
This process is done online via the MyCoID 2016 portal. You can incorporate your company personally through the portal as a director or promoter of the proposed company, but you would need to go through a one-time off verification procedure over the nearest SSM counter. Usually, new business owners would engage a company secretarial service like us to do it for them to save the hassle and avoid any complications.
Basic requirements
Company name: You must first receive CCM's approval for the name of your proposed company.
Shareholder(s): At least 1 shareholder (can be a body corporate or an individual) (maximum limit of 50 shareholders for private limited companies; no limit for public limited companies).
Director:
For private limited companies, at least 1 director ordinarily residing in Malaysia by having a principal place of residence in Malaysia, whom is not a disqualified director under the Companies Act.
For public limited companies, at least 2 directors ordinarily residing in Malaysia by having a principal place of residence in Malaysia, whom are not disqualified directors under the Companies Act.
Company secretary: All companies are required to have at least one company secretary under the Companies Act whom must be appointed within 30 days of the incorporation of the company. If you don't know what a company secretary is or why you need one, you can read this article.
Share capital: Minimum paid-up capital of RM 1.
Registered address: All companies are required to have a registered address (usually the Company Secretary's address is used).
Business address: The address of a company's principal place of business, if different from the registered address (it is advisable to put your own business address).
Document requirements
No documents are required to be presented or uploaded to the MyCoID 2016 portal during the application process (except in special circumstances where proof of documents have been requested by CCM). Nonetheless, any information and representation provided or made during this stage needs to be declared to be true by the applicant to the best of his/her knowledge. If an agent is engaged to make an application on the company's behalf, then scanned copies of the shareholders'/directors' ID (NRIC or Passport for individuals, and incorporation documents for body corporates) and any other proof of documents are usually requested for verification purposes.
Steps to incorporating a company
Step 1: Choosing a company name for direct incorporation; or checking for the availability of the name and reservation of company name
It costs nothing to check for the availability of a proposed company's name. It would however cost RM 50 to reserve a name for up to 30 days if you are uncertain whether to proceed with the incorporation process (extension of time is available at RM 50 for every 30-day interval). You can immediately proceed with the incorporation process if you are certain. Feel free to take up our free name search service.
Step 2: Filling in information about the company – 'Super Form'
Once a proposed company name is approved, the next step would be to fill in the 'Super Form' which requires information about the company (including the proposed name of the company, the type of company, the proposed business of the company, details of the director/ shareholder/ promoter of the proposed company, and a declaration from the director or promoter that he/she is not an undischarged bankrupt either in or outside of Malaysia, and has not been convicted of any offence whether in or outside of Malaysia).
Step 3: Declaration of compliance and payment of incorporation fee (RM 1,000 for companies limited by shares and unlimited companies), and RM 3,000 for companies limited by guarantee
Once you have thoroughly checked through the information which you have filled in and made the necessary declaration declaring that all requirements under the Companies Act has been complied with, you can then proceed to pay the requisite incorporation fee.
With that, the application process is complete pending CCM's review of the application. The review process usually takes 1 or 2 working days if there is no rejection or queries by CCM.
Step 4: Post incorporation (upon issuance of Notice of Registration)
Once a company has been successfully incorporated, a unique registration number will be given to the company and a Notice of Registration will be sent to the applicant confirming the above. A Notice of Registration is conclusive evidence that a company has been duly incorporated.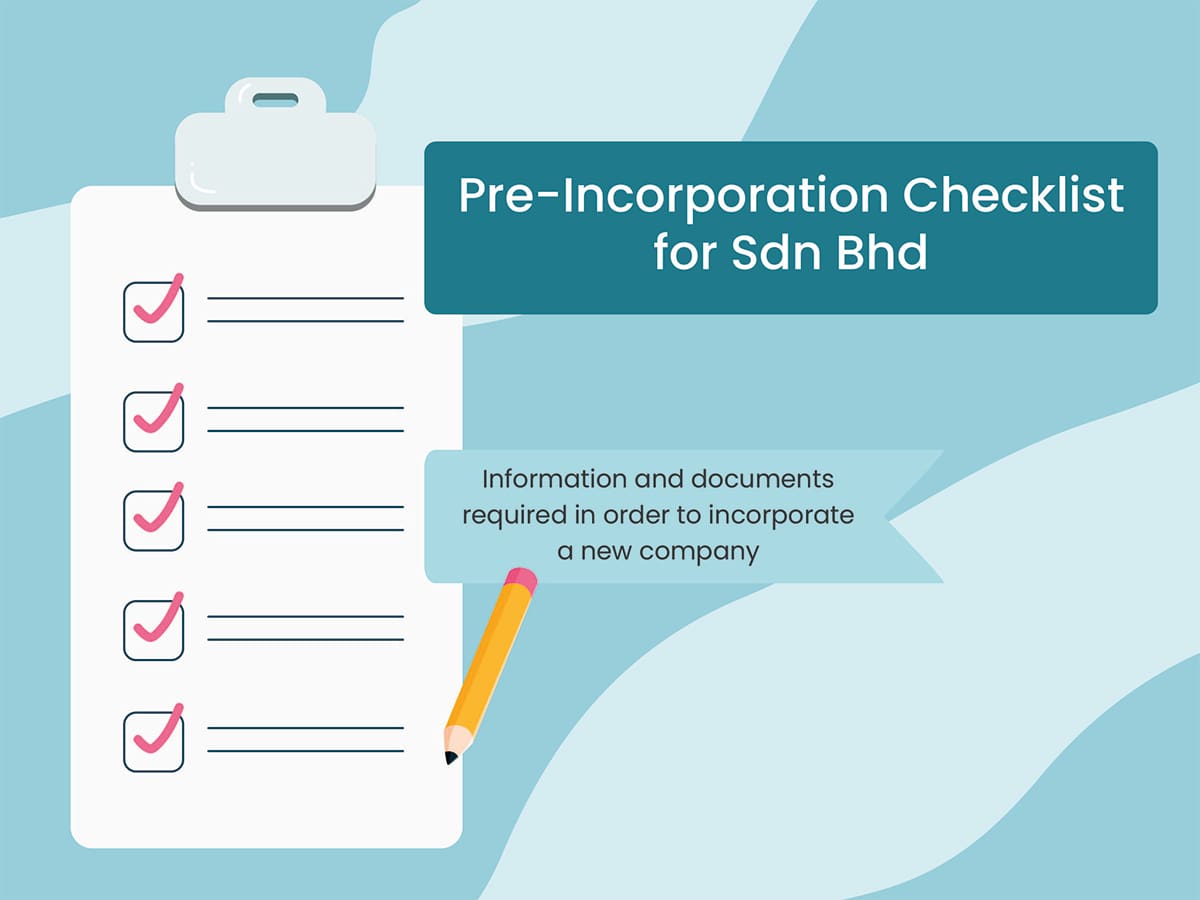 Hurray! Now that your company is incorporated, the life of your company begins. Next steps post incorporation include appointing a Company Secretary (if you haven't done so already), considering adopting any constitutional documents, opening a bank account etc., and further comply with all requirements under the Companies Act.
Before commencing business, you are advised to check and obtain the necessary license, permit or approval from the relevant authorities before commencing operations. If you are a public limited company, you are required to lodge further documents with the CCM before you can commence business.
MISHU provides company incorporation and secretarial services. Take advantage of our free name search.
The view expressed in this article is intended to provide a general guide to the subject matter and does not constitute professional legal advice. You are advised to seek proper legal advice for your specific situation.